Low-Volume Production Supplier from China
Views: 421 Update date: Apr 06,2022
Low-volume production is the production of saleable or usable parts/products using rapid low-volume tooling for injection molding or individual part/product manufacturing techniques such as 3D Printing, CNC Machining, and Vacuum Casting. High-volume injection tools are more expensive and are made from steel molds that can support production in excess of millions of units. Machining durable molds for mass production processes such as injection molding is expensive and can add weeks or months to production time. When a company needs to invest in tool steel, a special type of hardened and very strong steel that needs to make the machines used to make the product, it costs a lot of money to create a mass production run.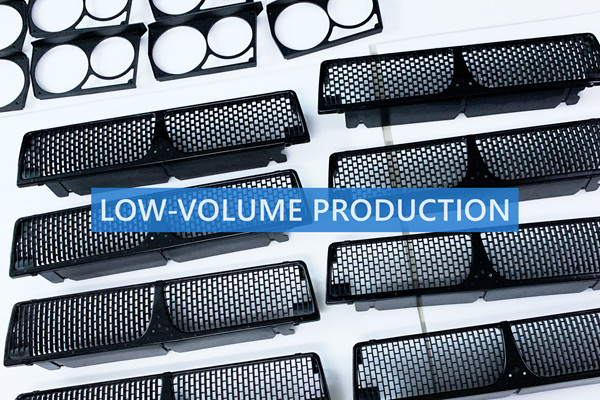 Low-volume production allows you to test the rapid prototyping of a product at the lowest cost, effectively avoiding the problems that can occur with mass-produced parts. Using processes suitable for small batches, prototypes and production units can have similar components and materials. This production method is typically used to make unique and more complex products with specific quality requirements. Many industries have found that Low-volume production allows them to spend less time and money on materials and equipment and get to market faster. In addition, recent advances in additive manufacturing have allowed engineers to create complex parts and unique design features without creating molds, saving cost in many ways. The popularity of additive and subtractive manufacturing, such as 3D printing and CNC machining, has changed the way products are manufactured and lead times. With those manufacturing method, start-up costs are low—less material waste and less labor.
In the small manufacturing industry it is generally impossible to keep production on a scale below a certain quantity, or there is a great difference in price according to quantity. The advantage ofsmall batch production is that it can meet a wide range of needs, increase customer satisfaction, and reduce the risk of stocking spare parts. Low-volume production becomes ideal even if a company knows that the design of a part can change and wants to avoid being waste with obsolete inventory created due to minimum order requirements from large manufacturers.
While traditional manufacturing methods such as plastic injection molding may still be the best option when your project requires more parts, low-volume production has grown in popularity over the past few years. Numerous manufacturing methods, including vacuum casting and CNC machining, increase the possibility of low-cost low-volume production. At SANWO, we offer low-volume production services from single part to large-scale production. We are custom low-volume manufacturing supplier from China, trusted advise that CNC machining, 3D printing and vacuum casting are great options.
Prev: Options for Custom Aluminum CNC Services
Next: What Sheet Metal Fabrication Can Do