What is CNC machining Aluminum?
Aluminum is the most conventional and popular metal material in CNC machining, When refer to machining Aluminum, it is the Aluminum alloys made from aluminum and other additional alloys like Silicon, Copper, Magnesium and Manganese. Aluminum is the easiest machining metal material for CNC Prototyping, machining production, soft tooling and custom products, it is a very important material that makes up nearly 80% of the machining metal material.
Contact us Team for a Aluminum CNC machining inquiry.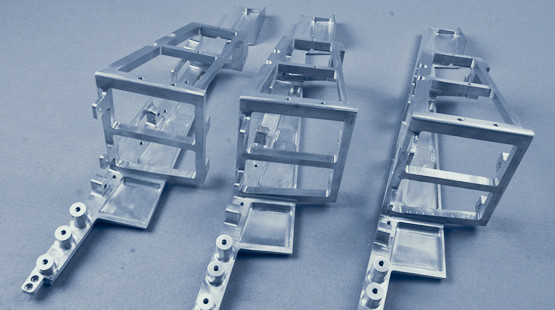 Why Choose Sanwo for the Aluminum CNC machining process?
Sanwo rapid has years of experience in aluminum machining , we have the skills, technologies and equipped with the most advance CNC machining, milling, cutting and turning centers, and we have a better understanding for materials chosen upon different kinds of products and applications. Sanwo are professional on material property and mechanical capacity, as a result, we can provide you the best suggestion and solution for the material and process chosen.
Conventional main types of Aluminum alloy
Aluminum alloy 2XXX series
For Aluminum alloy series 2XXX, Copper is the main alloying element, Thus, if heat-treated, this alloy will have the mechanical properties equivalent to mild steel. Compared to other aluminum series, alloy 2XXX series is less corrosion resistance. The most conventional alloy in this series is AL 2024, very common used in the aerospace and mechanical industry, but to the poor corrosion, be careful about leaving it in thin coolant or parts tumblers or having a great finish.
Aluminum alloy 6XXX series
For Aluminum alloy series 6XXX, Silicon and magnesium are the main alloying elements. Compared to series 2XXX, This alloys are better on machinability but at the expense of lower strength. The most Conventional alloy in this series is AL 6061. It is a popular Aluminum material in many engineering components and it is the best Aluminum choice for post finish like Anodize.
Aluminum alloy 7XXX series
For Aluminum alloy series 7XXX, Zinc is the primary alloying element, and it also contains copper, chromium, and magnesium. It has much higher hardness and strength than series 2XXX and series 6XXX, but it is in lower machinability and high cost. In this series, AL 7075 is the most conventional material commonly used for soft tooling, automotive, and defense industries.
Sanwo Metal has been machining aluminum parts with detailed project services from analysis to machining optimize for years. Our aluminum CNC machining and milling experience includes aluminum covers/enclosures, panels, knobs, heat sinks and optical reflectors. With the max manufacturing dimension in 1.5 meters, Sanwo Metal is capable for machining aluminum parts in automotive, aerospace applications, and medical device components.
SAMPLE PRODUCTS
FAQ
Aluminium Machining FAQ
What post finish can be apply on Aluminum parts?

The CNC machining Aluminum is the most common metal process in prototyping, post finishes are varieties according to the usage, Aluminum parts can get Sanding,Polishing,Brushing, Painting,Plating,Anodizing, e-coating,powder coating and so on.
What is the best Aluminum type for Anodize?

According to the different material conductivity, the anodize effect shows different, the best Aluminum type for anodize from CNC machining is AL6061-T6, Though this is not the best Aluminum material, it is the best material for anodise.
Can I use my own material for production?

Yes, customer-supplied material is fine so long as it fits with our machine capabilities.
Is that Aluminum the lightest metal material for CNC machining?

No, for CNC machining, we still have a lighter material, it is Magnesium, which are mostly use for the consumer electronic frames which requires light weight. But sometimes Aluminum is also light enough when it is thin enough
How Can I know if Sanwo is capable to make my complicate Aluminum model?

For Aluminium machining, Sanwo use multi-axis CNC machining from 3 Axis to 5 Axis, which is enough for most of the complicate metal parts, besides, Sanwo also provide EDM for the tool un-reachable areas.