What is the smallest CNC tolerance?
Views: 79 Update date: Oct 23,2023
The smallest CNC (Computer Numerical Control) tolerance, also referred to as machining tolerance, is determined by various factors, including the capabilities of the CNC machine, the material being machined, the tooling, and the specific requirements of the part being produced. There is no universally fixed minimum tolerance for all CNC machining processes, as it can vary depending on these factors.
Generally, CNC machining is capable of achieving very tight tolerances, often measured in thousandths of an inch (mil or thou) or micrometers (microns). Tolerances of ±0.001 inches (0.0254 mm) or even tighter are not uncommon for precision CNC machining. For some applications and industries, even more stringent tolerances may be required, such as ±0.0005 inches (0.0127 mm) or better.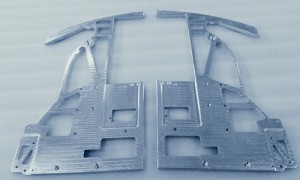 The achievable tolerance also depends on the specific type of CNC machining operation being performed, such as milling, turning, grinding, or wire EDM (Electrical Discharge Machining). Each of these processes has its own set of typical tolerances.
It's important to note that achieving very tight tolerances often involves careful machine calibration, high-quality tooling, and strict quality control measures. Additionally, factors like the complexity of the part, the material's properties, and the size of the feature being machined can all influence the achievable tolerance.
For precise machining applications where extremely tight tolerances are critical, it's essential to communicate your specific tolerance requirements with the CNC machine operator or manufacturer to ensure that the process is capable of meeting your needs. Additionally, thorough quality control and inspection processes are typically employed to verify that the required tolerances have been achieved.
Prev: What is the limit of CNC machining?
Next: What are 3 disadvantages of a CNC machine?