What is the limit of CNC machining?
Views: 78 Update date: Oct 31,2023
CNC (Computer Numerical Control) machining is a highly versatile and precise manufacturing process used to create a wide range of parts and components. The limits of CNC machining can vary depending on factors such as the machine's capabilities, the material being machined, and the complexity of the part. Here are some of the key considerations and limitations in CNC machining:
Materials: CNC machining can work with a wide variety of materials, including metals (aluminum, steel, titanium, etc.), plastics, wood, composites, and more. However, the suitability of a material for CNC machining depends on its hardness, brittleness, and other characteristics. Some extremely hard or brittle materials may require specialized tooling and processes, and not all CNC machines can handle them.
Tolerances: CNC machining is known for its high precision. The achievable tolerances typically range from ±0.001 inches (0.0254 mm) to ±0.005 inches (0.127 mm), depending on the machine's accuracy and the specific requirements of the part. Achieving tighter tolerances may require more advanced equipment and meticulous setup.
Surface Finish: CNC machining can produce a variety of surface finishes, from rough to very smooth. The quality of the finish depends on factors such as the cutting tools, machine rigidity, and the material being machined. Secondary processes like polishing or grinding may be needed to achieve specific surface finish requirements.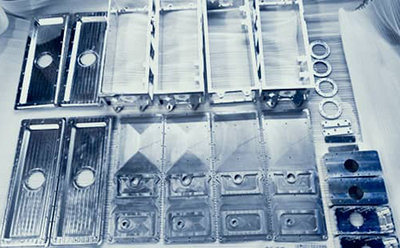 Part Size: CNC machines come in various sizes, from small desktop units to large industrial machines. The size of the machine limits the maximum workpiece dimensions. Smaller machines are limited in the size of parts they can handle, while larger machines can accommodate more substantial workpieces.
Geometric Complexity: CNC machining is well-suited for parts with complex geometric features, including holes, slots, pockets, and intricate contours. However, extremely complex or highly detailed parts may require specialized tooling or multiple setups, increasing production time and cost.
Tool Access: The CNC machine's tool access can be limited, especially in multi-axis machining. Some areas of a part may be challenging to reach with standard tooling, which can affect the machining process or necessitate additional operations.
Material Removal Rates: The rate at which material can be removed depends on factors like the machine's power, the tooling, and the material being cut. Hard materials may require slower cutting speeds to maintain tool life, which can impact production rates.
Cost: The cost of CNC machining includes machine setup, tooling, labor, and material costs. Complex parts with tight tolerances may be more expensive to machine.
Tool Wear: Cutting tools used in CNC machining wear over time, which affects the quality of the part and necessitates tool changes. The frequency of tool changes depends on factors like material hardness and cutting conditions.
Post-Processing: While CNC machining can produce highly accurate and finished parts, additional post-processing steps like deburring, polishing, or coating may be required to meet specific requirements.
In summary, the limits of CNC machining depend on a combination of factors, including the machine's capabilities, the material and part specifications, and the cost considerations. CNC machining is a highly versatile and capable process, but understanding these limits and tailoring your design and manufacturing processes accordingly is essential for achieving the desired results.
Prev: What are the disadvantages of low volume production?
Next: What is the smallest CNC tolerance?