Unleashing the Power of Customized CNC Machined Aluminum Parts
Views: 113 Update date: Sep 22,2023
In the world of modern manufacturing, Computer Numerical Control (CNC) machining has revolutionized the way precision parts are produced. Among the diverse materials available for CNC machining, aluminum stands out as a favorite due to its exceptional properties. Combining the versatility of CNC technology with the robustness of aluminum, customized CNC machined aluminum parts offer unparalleled advantages for various industries. In this blog, we will explore the advantages, applications, and the process of creating these remarkable components.
Advantages of CNC Machined Aluminum Parts
Strength and Durability
Aluminum is renowned for its strength-to-weight ratio, making it ideal for applications where both strength and lightweight properties are essential. CNC machining ensures precise and consistent results, delivering parts with exceptional structural integrity.
Corrosion Resistance
Aluminum naturally forms a protective oxide layer, offering remarkable resistance against corrosion. This property is invaluable in industries where exposure to harsh environments is common, such as aerospace, marine, and automotive.
Versatility
CNC machining allows for intricate and complex designs, enabling manufacturers to create customized aluminum parts for a wide range of applications, from medical devices to industrial machinery.
Cost-Effectiveness
Aluminum is a cost-effective material, and CNC machining optimizes material usage, reducing waste and lowering production costs. The efficiency of CNC machining also translates to shorter production cycles, resulting in faster turnaround times.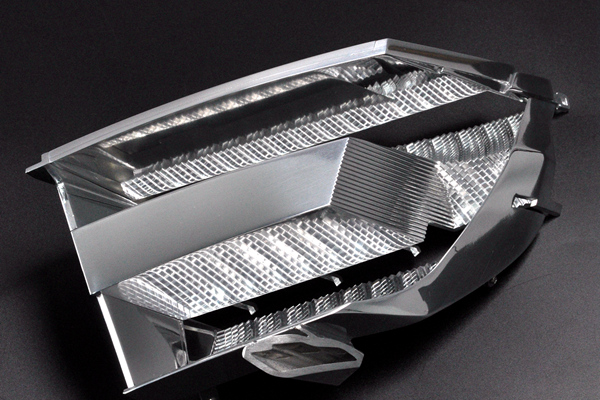 Applications of Customized CNC Machined Aluminum Parts
Aerospace Industry
The aerospace sector heavily relies on CNC machined aluminum components due to their lightweight yet robust nature. Parts such as aircraft structural elements, landing gear components, and engine parts are often manufactured using CNC machining processes.
Automotive Industry
Aluminum parts find extensive use in the automotive industry, as they contribute to improved fuel efficiency and performance.Custom CNC machined aluminum parts are used in engine components, transmission parts, suspension systems, and more.
Electronics
The electronics industry benefits from the precise nature of CNC machining, as it allows the production of aluminum parts used in heatsinks, casings, and connectors.
Medical Devices
CNC machined aluminum parts are widely employed in the medical sector due to their bio-compatibility, lightness, and resistance to corrosion. They are found in medical equipment, prosthetics, and various surgical instruments.
Creating Customized CNC Machined Aluminum Parts
The process of creating customized CNC machined aluminum parts involves several key steps:
1. Design
The process starts with a detailed 3D design or CAD model of the desired part. The design specifies dimensions, tolerances, and other critical parameters.
2. Material Selection
Choose the appropriate aluminum alloy based on the specific requirements of the part. Factors such as strength, corrosion resistance, and conductivity play a role in material selection.
3. CNC Machining
Once the design and material selection are finalized, CNC machines interpret the CAD model and execute the cutting and shaping processes. This stage requires skilled operators and high-precision machines.
4. Finishing
After the CNC machining is complete, the parts may undergo additional processes like surface finishing, anodizing, or powder coating to enhance aesthetics and improve wear resistance.
Conclusion
Customized CNC machined aluminum parts epitomize the perfect marriage between advanced technology and superior material properties. From aerospace to medical industries, these components contribute to cutting-edge solutions with their strength, versatility, and cost-effectiveness. As CNC machining continues to evolve, we can expect even greater innovations in the production of customized aluminum parts, powering progress across a multitude of sectors.
Prev: What is CNC tolerance?
Next: What are common problems of CNC?