Titanium Material for 3D Printing
Views: 50 Update date: Nov 01,2022
Titanium is the strongest material currently available for 3D printing, not to mention it's also the lightest metal. Traditionally, when products are made from titanium, they need to be machined using a CNC milling machine or poured into a mold. But because 3D printing allows for almost unlimited complexity, it is actually very cost-effective to use additive manufacturing to produce products. 3D printed titanium is primarily used in aerospace, dental and medical applications, especially for medical implants because it is non-toxic, high strength and corrosion resistant. Current metal 3D printing technologies allow titanium parts to be printed down to 0.25 mm layers with minimum wall thicknesses as low as 0.4 mm.
What Makes Titanium Suitable for 3D Printing
Titanium can be a difficult metal to work with, especially in machining. Titanium has low thermal conductivity. This means that when machining with CNC machines, the heat generated is stored in the CNC tool, which can lead to rapid tool wear.
And because machining involves the cutting and removal of material, the process can lead to significant material waste. As a result, many companies are looking for better alternatives to produce titanium parts.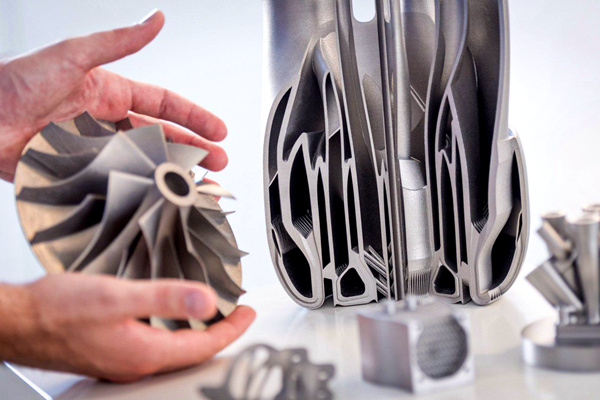 Metal 3D printing is a viable alternative, and for metal 3D printing, the most commonly used titanium material is the alloy Ti6Al4V (Ti64). In addition to Ti64, pure titanium can also be used for 3D printing.
The Benefits of 3D Printing with Titanium
For aerospace applications, the use of titanium for 3D printed parts often helps to reduce the purchase to flight ratio. The term comes from the aerospace industry and refers to the correlation between the weight of the material initially purchased and the weight of the finished product.
For example, in traditional manufacturing, the buy-to-fly ratio for titanium aircraft parts can range between 12:1 and 25:1. This means that 12-25kg of raw material is required to produce 1kg of part. In this case, up to 90% of the material is processed away.
Metal 3D printing can reduce this ratio of titanium content to between 3:1 and 12:1. This is because metal 3D printers typically use only the necessary amount of material needed to make the part, generating only a small amount of waste from the support structure. For expensive materials like titanium, the cost savings from this reduced purchase to flight ratio can be significant.
Titanium 3D printing has become a valuable technology in the aerospace, medical and automotive sectors. A key reason for this is the successful combination of titanium's superior properties and 3D printing's ability to reduce waste and create complex, lightweight designs.
As the cost of titanium decreases and more applications are discovered, titanium 3D printing will become an excellent manufacturing option for a broader range of industries.
For more information, please feel free to contact us at info@sanwometal.com.
Next: Quotes of CNC milling parts from clients