Techniques of Metal Surface Finishing
Views: 706 Update date: Dec 28,2021
Metal surface finishing is an essential performance in metal product parts. It can make a finished part better in quality and longer time of usage. In order to prevent corrosion and improve appearance, engineers/designers are always specify additional surface finishes for a portion or the whole part of a metal component's exterior appearance after machining and producing. Surface treatment methods offer different advantages, each type could have different protective efforts. There are going to talk about the 7 common techniques of metal surface finishes, it will guide you to know more about choosing the right method of your workpiece.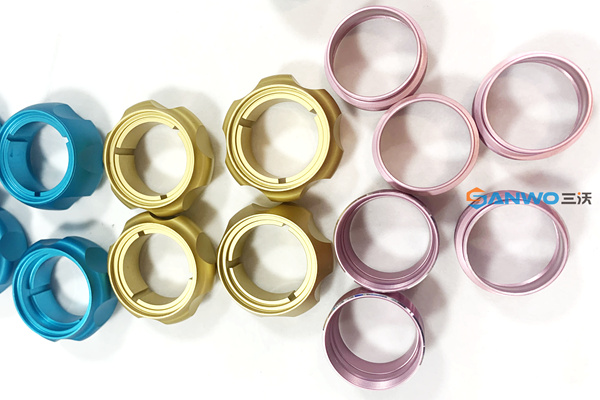 1. Anodizing
Anodizing is an eletrochmical process used to increase the thickness of the natural oxide layer on the surface of metal parts. It converts the metal surface into a decorative, durable, corrosion-resistant, anodic oxide finish. Aluminum is more often suited to anodizing in clear, black or color anodize. And the blueing, black oxide often use for stainless steel. There are also other nonferrous metals like magnesium and titanium can also be anodized.
2. Chromate Conversion Coating
Chromate is the most widely used coating for corrosion protection of aluminum and aluminum alloys, minimizing oxidation. It is a chemical immersion process that could passivate and convert the surface properties of the substrate.
3. Plating
Plating includes Nickel Plating, Chrome Plating, Zinc, Gold, Brass, and Silver Plating. This finishing type is a surface covering process that a metal is deposited on a conductive surface. Under this technique, plating can be used for all metal. There are two types of plating: Eletroplating and Electroless Plating.
4. Powder Coating
Powder coating is a type of coating that is applied as a free-flowing, dry powder. Powder coating is mainly used for coating of metals, such as household appliances, aluminium extrusions, drum hardware, automobiles, and bicycle frames. Used as protective and decorative finishes, powder coatings are available in an almost limitless range of colors and textures, and technological advancements have resulted in excellent performance properties.
5. E-Coating
E-coating is an immersion wet paint finishing process that uses electrical current to attract the paint product to a metal surface. E-coating has the superior corrosion resistance, environmental friendly, and line density. It makes products last longer with a durable, lasting finish that could stand up to outdoor environments such as sunlight and water or indoor like chemicals used in wet location.
6. Sand-Blasting
Known as abrasive blasting, sand-blasting is a surface finishing process that propelling very fine particles of an abrasive material at high velocity toward a surface in order to clean or etch it. Sandblasting is often used as a way to prepare a surface prior to painting.
7. Pickling
As a metal surface finishing technique, picking is used to remove impurities like stains, inorganic contaminants, and rust or scale form ferrous metals, copper, steel, precious metals and aluminum alloy. Pickling is performed by submerging metal in pickle liquor. After working a piece of metal, the manufacturing company will submerge it in the acid solution. The pickle liquor will then eat away at any oxide or other impurities lingering on the surface of the metal.
Conclusion
Proper surface finishing is essential in metal parts production. Getting to know about metal surface finishing techniques is good for the end-user, alsoitputs the manufacturer at an advantaged position. Looking for the most suitable finishing for your metal part project, just sets out to make it happen. For more information, contact info@sanwometal.com, SanwoMetal is right here to support you.
Prev: Quotes of CNC Machined Parts from United States
Next: Best Ways to Make Metal Prototypes