How many different types of CNC machines are there?
Views: 202 Update date: Jan 18,2023
Computer Numerical Control (CNC) machining is a manufacturing process during which a pre-programmed computer software directs the movement of factory machinery and tools. CNC machining can control a variety of complex machinery, from mills and routers to grinders and lathes. Using CNC machining allows three-dimensional cutting tasks to be accomplished with a single set of prompts. This process has become popular because there is no need for a live operator to push levers, buttons or wheels. Once a CNC machine has been activated, the cuts are programmed into the software and then communicated to the tools and machinery which perform the task.
CNC machining is ideal for projects requiring production-grade materials and rapid prototyping of tight tolerance plastic and metal parts with excellent surface finishes. The repeatability of the process also opens up the possibility of producing high volume manufacturing of parts using CNC machining.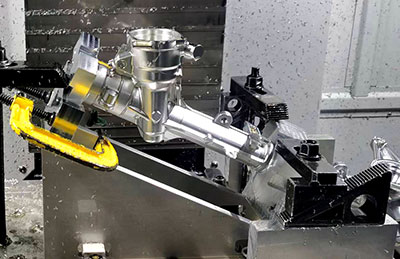 Different Types of CNC Machines
A CNC machine follows a coded program to modify a piece of material to meet specifications. The code is written by a person or translated from CAD or CAM software. They often use G-code or M-code. Some of the most frequently used CNC machines include:
CNC Mills
The most basic mills consist of an X, Y, Z system and newer mills with three axes. Most
CNC mills
run on programs following letter- and number-based prompts that instruct pieces to move certain distances. Face milling, tapping, drilling, turning and shoulder milling are all functions of a mill. On a CNC mill, the workpiece is held in place. Cutting tools or drills attached to a spindle remove pieces of material from the workpiece.
Lathes (CNC Turning)
Lathes deliver circular cuts with precision and high velocity. Lathes are commonly used for complex designs not possible with a manual machine. Most CNC lathes have two axes, X and Z. Some models have more than two axes, which allows them to do more advanced jobs. On a lathe, the material is held on a rotating spindle. The non-rotating cutting tool or drill traces the perimeters of the part, forming the geometry or shape.
Plasma Cutters
Material is cut using a plasma torch. Plasma cutters are mainly used for metal materials, but other materials may be used. The machine generates heat and speed by using compressed-air gas and electrical arcs.
Electric Discharge Machines (EDM)
Two workpieces are cut and shaped by using electrical sparks via the use of electrodes. As the space between these electrodes shrinks, a current passes through, which removes a portion of the workpiece. This method is sometimes called die sinking, spark machining, spark eroding, burning, or wire erosion. Subtypes include Wire EDM and Sinker EDM.
Water Jet Cutters
High-pressure water jets are used to cut hard materials such as metal or stone. Water jets are often employed when the material cannot bear high-heat.
Other tools with CNC variants include CNC routers, 3D printing, induction hardening machines, surface grinders, milling machines and more.
Prev: What are the different types of CNC machining services?
Next: High precision CNC milling services of tiny parts