What are the different types of CNC machining services?
Views: 42 Update date: Jan 19,2023
Machining projects are complex processes that require a skilled machinist and intensive planning. Manufacturers provide
CNC machining services
to fabricate a ready-to-use parts.
1. Milling
Performed by a milling machine, this process involves removing material from a stationary workpiece using a rotating cutting tool. These types of machining projects are helpful when making a stepped or flat surface.
Some of the plastic and metal materials used in this process include abs, acrylic, aluminum, carbon steel, copper, stainless steel and etc. Many machining projects are suitable for millings, such as optical clear parts machining, high precision aluminum parts machining, and high hardness steel parts milling.
CNC milling services
are also used in machining projects in the automotive industry. They can create parts for a motorcycle, spare parts for an engine, and complete details of a vehicle.
2. Turning
This is a machining process performed by the lathe. In the machine shop, the lathe spins the workpiece while the cutting tool remains in one place. This process can either be done on the exterior or interior part of the material.
The lathes used in these machining projects can either be manually operated or the automated CNC types. The machinist can create complex curves utilizing this tool in a process called 5-axis machining.
Commercially, manufacturers use the lathe machine to work on the surfaces of the vehicle's brake components. Furthermore, they are used for metal fabricating and woodturning in industries such as power plants, steel plants, paper textiles, oil, and mining industries.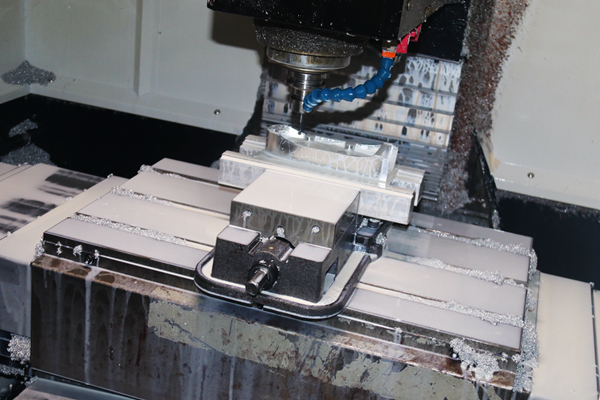 3. Drilling/Boring
In a machining project, drilling produces cylindrical holes on a surface. Using a cutting tool known as a drill, the holes are often created to help during the assembly process. On the other hand, boring machining is used to refine the accuracy and dimensions of the designed holes.
Drilling tools consist of two-edged rotating devices used to create round holes that are parallel to the axis. Drilling is used on materials such as metal and wood used in the production of heavy equipment.
You will find these machines in the packaging and construction industries. Drilling can be done using a drill press, lathe, or milling machine.
4. Grinding
This abrasive cutting process is typical in machining projects. The grinding wheel, which has abrasive grains, is used to remove the excess material on a surface. A grinding machine performs this process in the machine shop.
Commonly used as a finishing process, the grinding machine is suitable for processing complex parts. With the ability to make precise products, this cutting process is used on materials such as wax, metal, plastic, and foam. Manufacturers use this process to fabricate parts for cars, hydraulic equipment, motorcycles, and home appliances.
Prev: An overview about low volume manufacturing
Next: How many different types of CNC machines are there?