CNC Machining for Custom Aluminum Parts
Views: 1106 Update date: Oct 26,2021
Aluminum also as Aluminium, is a lightweight, non-magnetic, silver white metal thatcan be formed into almost any shape. Pure aluminum is soft and has limited strength. Small amounts of elements such as copper, magnesium, and zinc are often added to increase strength. Aluminum is the most abundant metallic element in Earth's crust, and also a comparatively new industrial metal in commercial quantities for just over 10 decades.
Why Use Aluminum for Machined Parts
Aluminum is a popular choice for many metal parts or components, such as auto parts, optical reflectors, aircraft parts, lighting fixtures, and electronic enclosures, engines parts, heat sinks, and so on. Designers and engineers often choose aluminum and aluminum alloys for CNC machining and milling parts.
With the advantages to offer, aluminum has been proven as the all-purpose metal.
l Excellent machinability
l Corrosion and chemical resistance
l High strength and low weight
l Good heat tolerance
l Electrical conductivity
l Reflects heat and light
Aluminum Machining Capabilities in Sanwo Metal
Sanwo Metal has been machining aluminum parts with detailed project services from analysis to machining optimize for years. Our aluminum CNC machining and milling experience includes aluminum covers/enclosures, panels, knobs, heat sinks and optical reflectors. With the max manufacturing dimension in 1.5 meters, Sanwo Metal is capable for machining aluminum parts in automotive, aerospace applications, and medical device components. Sanwo Metal provides CNC Milling, CNC Turning, CNC Sheet Metal, and also Aluminum Die Casting services to almost all industries.
With ISO 9001:2015 and ISO 13485:2016 Certified, Sanwo Metal can professionally support and focus on the automotive, aerospace, military and medical industries.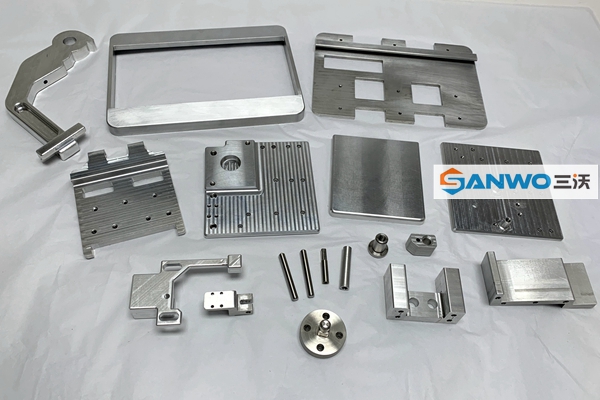 Aluminum Grade
Aluminum 2024- One of the most commonly used high strength aluminum alloys. It is heat-treatable with copper as the primary alloying element, which make this grade can be machined to a high finish, and formed in annealed condition with subsequent heat treating, if needed. The corrosion resistance of aluminum 2024 is relatively low, and it is commonly used in an anodized finish or in clad form (Alclad).
Aluminum 5052- Primarily alloyed with magnesium and chromium. This is the highest fatigue strength alloy of the more non heat-treatable grades. 5052 has a good resistance to marine atmosphere and salt water corrosion with excellent workability. It can be easily drawn or formed into intricate shapes.
Aluminum 6061- Referred to as the "work-horse" alloy, it is the most versatile of the heat-treatable alloys. It has a broad range of mechanical properties and corrosion resistance. All the properties make this a perfect grade for sheets, extrusion, tubes, pylons, and for department of transportation-related applications. And 6061 can easily be treated to a perfect finish.
Aluminum 6063- As the architectural alloy, 6063 is one of the most commonly-used alloy in aluminum extrusion due to its high tensile properties and exceptional finishing characteristics. It is also well-suited for anodizing.
Aluminum 7075- As one the highest strength aluminum alloys available, Al 7075 is ideally used in highly stressed parts. It is often used in aerospace applications because of its desirable mechanical properties.
Most Common Surface Finishing Options for Aluminum
In Sanwo Metal, we provides diverse surface finishing options for aluminum parts. A great appearance make the part more attractive and visual.
Mechanical Finishes
Aluminum can be buffed, blasted, polished, grinded or sanded. These finishes can improve surface quality or prepare the aluminum for other cosmetic finishes.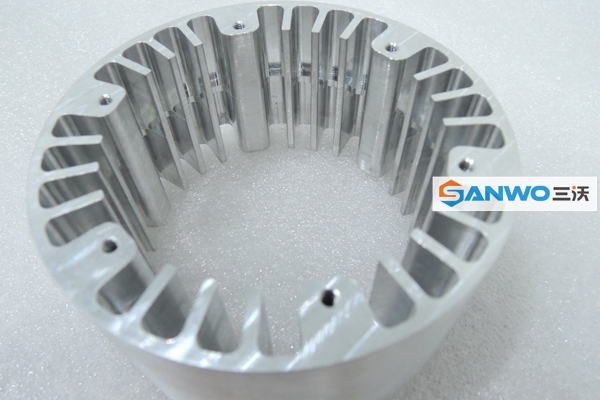 Anodizing
Anodizing is a process that provides additional protection aside from the natural oxide film. A durable, porous anodic oxide layer forms to protect against corrosion, enhance aesthetic qualities. Anodized aluminum will also accept vibrant color. Anodization can be suit for any kind of aluminum alloy.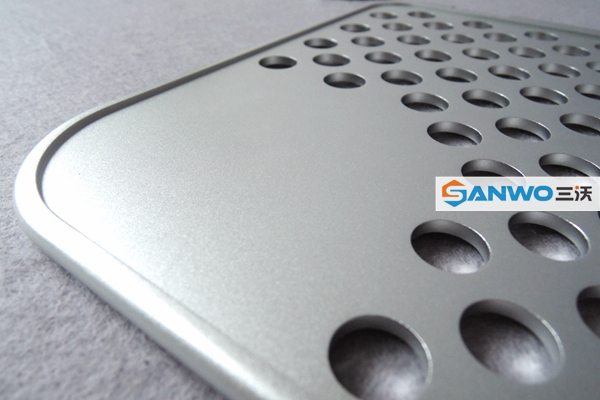 Powder Coating
Powder coasting leaves behind a film that can meet stringent performance criteria. At the same time, they do no contain VOCs. This is ideal for meeting environmental regulations on VOCs. The product is applied as solid on the extrusion. While going through the oven process, solid particles fuse together to form the film.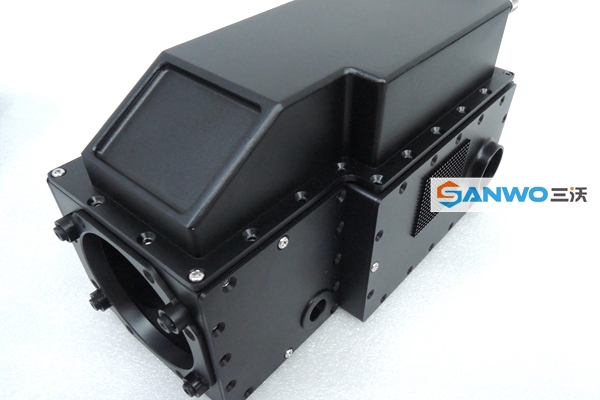 Prev: Guides about Sheet Metal Manufacturing
Next: Inquiries of low volume manufacturing parts from clients