Choose Aluminum CNC Services in Sanwo
Views: 303 Update date: Aug 11,2022
We SanwoMetal deal professional CNC aluminum machining solution that is procedures including of CNC milling, CNC lathe, CNC turning, EDM, plus plating surface therapy, to make any custom-made design parts with high-precision measurement.
Our CNC aluminum machining service assists international consumers to handle their operations and custom parts a lot more effectively. We have rich experience designers to lower labor & machining costs by eliminating time-consuming manual tasks and automating repetitive jobs, that aids to boost revenue margin and also conserve lead time for our valuable consumers.
Our CNC aluminum machining solution is not just restricted to high volume orders, it's no MOQ to generate little order which start from 1 computers as quick as 3 days.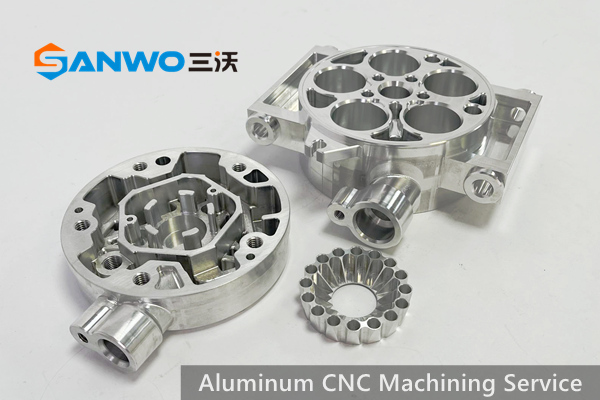 Types of Aluminum CNC Machining Process
At SanwoMetal, we produce various aluminum components via the complying with processes:
- Precision Machining
Our facility is outfitted with a wide variety of CNC makers including CNC turrets, turning facilities with real-time tools, straight and upright band saws, etc. This assists us to create precision machined CNC parts or components.
- CNC Milling & Turning
We have equipment with 3, 2, 3+2, and 5 axis, which helps us give end-to-end CNC milling and lathing solutions. In addition, we can supply sub procedures, such as knurling, milling, drilling, etc.
- Production Wire EDM
At SanwoMetal, we produce high accuracy machined components making use of 4 axis wire EDM. In addition, we have the ability of giving tapered cuts up to 45 degrees.
Material Grades SanwoMetal Work With
At Sanwo, we work with the adhering to aluminum qualities:
Aluminum 6061: This grade is just one of the most preferred aluminum grades, due to its excellent mechanical residential properties, along with weldability. Aluminum 6061 is most frequently squeezed out quality, due to its common homes, such as great durability, medium to high strength, exceptional rust resistance in harsh environments, easy anodization, as well as great workability. Aluminum 6061 is extensively made use of for 5 axis CNC machining.
Aluminum 7075: This is a prominent grade after 6061. Aluminum 7075 is popular for its superb exhaustion toughness. This grade is not easily weldable and also is just one of the very expensive variants readily available. Therefore, it is most generally utilized for tough parts, such as aircraft wings, as well as fuselages, bike parts, rock climbing up equipment. This alloy has better rust resistance than the aluminum 2000 alloys. Most times, machine procedures are performed utilizing oil lubricating substances.
Aluminum 2024: The alloy is extensively used in aerospace as well as armed forces applications, because of its mechanical buildings, such as high tiredness resistance, high stamina, as well as vulnerability to thermal shocks. Aluminum 2024 is not conveniently weldable and provides bad deterioration resistance, too.
Aluminum 5052: This non-heat treatable alloy is regularly made use of for constructing maker parts, and components to be utilized in seawater settings. aluminum 5052 offers good resistance to marine, deep sea, and industrial atmospheres. The alloy can be easily punched, curved, as well as sheared right into desired shapes.
Aluminum 6063: The alloy has superb mechanical homes, such as easy weldability, warm treatability, as well as sturdiness. Aluminum 6063 is made use of for aluminum extrusion applications. This alloy is generally made use of for producing intricate shapes with smooth surface areas as well as is generally made use of in applications such as door frames, home window frames, indicator frames, roof coverings, and so on.
Get Free Consultation & Quote in Sanwo
If you are seeking a Chinese CNC Milling Aluminum Supplier, get in touch with SanwoMetal. SanwoMetal Team can be your everything consulter in your project. We provide you tips on yours at 3 elements:
1. Your design manufacturability and estimation.
2. Usefulness evaluation for mass production.
3. Task time & part's cost-saving.
Get in touch with us now, to see exactly how we can help with your project.
Prev: Know about Custom CNC Aluminum Enclosure
Next: CNC Turning Parts for Production Volume