What are the sheet metal components?
Views: 49 Update date: May 09,2023
Sheet metal parts are components that are made from thin sheets of metal. The sheets are usually made from materials such as steel, aluminum, brass, and copper, among others. The sheets are cut, bent, and formed to create a variety of shapes and sizes, depending on the desired end product.
Sheet metal parts are used in a wide range of applications, including:
* Automotive body panels
* HVAC systems
* Metal enclosures for electronics
* Aerospace components
* Building facades and roofs
* Kitchen appliances
And much more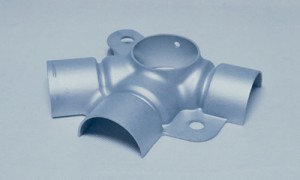 Why Use Sheet Metal Components?
Sheet metal components
offer several advantages over other materials such as plastics, composites, and wood. Some of the benefits of using sheet metal parts include:
Strength and durability:
Sheet metal is strong and durable, making it ideal for components that need to withstand high stresses or harsh environments.
Versatility:
Sheet metal can be cut and formed into a variety of shapes and sizes, making it suitable for a range of applications.
Cost-effective:
Sheet metal is relatively inexpensive compared to other materials, making it a cost-effective option for many applications.
Aesthetics:
Sheet metal can be finished in a variety of ways, including painting, anodizing, and powder coating, making it a popular choice for applications where aesthetics are important.
How are Sheet Metal Parts Made?
Sheet metal parts
are typically made using a combination of cutting, bending, and forming processes. The exact process used will depend on the specific part being produced and the material being used.
Some of the common processes used to manufacture sheet metal components include:
Laser cutting:
A high-powered laser is used to cut the metal sheet into the desired shape and size.
Bending:
The sheet metal is bent into the desired shape using a press brake or similar tool.
Forming:
The sheet metal is formed into complex shapes using tools such as punches and dies.
Welding:
Multiple sheet metal parts can be welded together to create a larger component.
Prev: What are 5 items are made from sheet metal?
Next: The Low Volume Manufacturing and CNC Milling Services from the Reliable Company