What are the basic processes in sheet metal manufacturing industry?
Views: 97 Update date: Mar 23,2023
Sheet metal manufacturing is a highly diverse industry that produces a range of products using various techniques. Sheet metal is a versatile material that can be transformed into a wide range of products, including enclosures, brackets, containers, and parts for machinery and vehicles.
Cutting
The cutting process is an essential step in sheet metal manufacturing. There are several methods of cutting sheet metal, including shearing, laser cutting, and waterjet cutting. Shearing involves using a blade to cut the metal along a straight line. Laser cutting is a highly precise process that uses a laser beam to cut the metal. Waterjet cutting is a process that uses a high-pressure stream of water mixed with an abrasive material to cut the metal.
Bending
Bending is the process of shaping the sheet metal into a desired form. The sheet metal is placed in a bending machine that applies pressure to the metal to bend it into the desired shape. There are several types of bending machines, including press brakes, folding machines, and roll bending machines. The choice of machine depends on the complexity and size of the product being produced.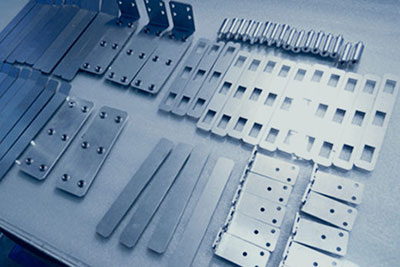 Forming
Forming is a process that involves shaping the sheet metal without cutting or bending it. The metal is shaped using a variety of methods, including stamping, punching, and roll forming. Stamping involves pressing the metal into a die to create the desired shape. Punching is a similar process that uses a punch to create holes or shapes in the metal. Roll forming is a process that involves passing the sheet metal through a series of rollers to create a continuous shape.
Joining
Joining is the process of connecting two or more pieces of sheet metal together. There are several methods of joining sheet metal, including welding, brazing, and soldering. Welding is a process that involves melting the metal and fusing it together. Brazing and soldering are processes that use a filler material to join the metal.
Finishing
Finishing is the final step in sheet metal manufacturing. It involves polishing, painting, or coating the metal to give it a desired appearance or to protect it from corrosion. Polishing involves using a polishing wheel to create a smooth, shiny surface on the metal. Painting and coating involve applying a layer of paint or protective material to the metal to improve its appearance and durability.
Prev: Want to Know Everything About Sheet Metal Stamping
Next: How do you manufacture sheet metal?