Several stages of sheet metal manufacturing process
Views: 54 Update date: Apr 19,2023
Sheet metal manufacturing is a process that involves the shaping and forming of sheet metal into various products using a variety of techniques. Sheet metal is a thin, flat sheet of metal that is used in a wide range of applications, including automotive, construction, and electronics. The manufacturing process involves several stages, each of which is essential to creating high-quality sheet metal products.
Designing the product
The first stage in sheet metal manufacturing is designing the product. This involves creating a blueprint or drawing of the product using CAD (Computer-Aided Design) software. The design should be precise, taking into account the required dimensions, materials, and tolerances.
Material selection
Once the design is complete, the next step is selecting the appropriate material. Sheet metal is available in various materials, including aluminum, steel, brass, and copper. The selection of the material will depend on the application of the product, the cost, and the desired properties.
Cutting
After the material is selected, the sheet metal is cut into the desired size and shape. There are several methods of cutting sheet metal, including shearing, laser cutting, and water jet cutting. Shearing is a traditional method that involves cutting sheet metal with a straight blade, while laser cutting uses a laser beam to cut the material. Water jet cutting uses a high-pressure jet of water to cut through the metal.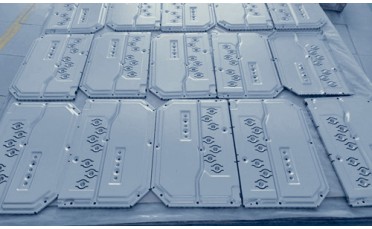 Forming
The next step is forming the sheet metal into the desired shape. This can be done through a variety of techniques, including bending, rolling, and stamping. Bending involves using a press brake to bend the metal into the desired angle, while rolling involves passing the metal through a series of rollers to create a curved shape. Stamping involves using a punch and die to create the desired shape by pressing the metal into the die.
Welding
After the sheet metal is formed, it may need to be welded together to create a larger assembly. There are several welding techniques that can be used, including TIG welding, MIG welding, and spot welding. TIG welding uses a tungsten electrode to create a high-quality, precise weld, while MIG welding uses a wire feed to create a strong, efficient weld. Spot welding involves using electrodes to join two sheets of metal together at specific points.
Finishing
The final step in the sheet metal manufacturing process is finishing. This involves adding any final touches to the product, such as painting or powder coating. This step is essential to ensure that the product is durable and aesthetically pleasing.
Prev: Choose A Good Metal Prototype Maker
Next: What are the 2 types of sheet metal raw material manufacturing process?