Sanwo Metal: Your Trusted Partner in Precision
Views: 63 Update date: Nov 13,2023
In the realm of precision engineering, Sanwo Metal stands as a beacon of excellence, specializing in low volume CNC machining to craft custom metal parts tailored to perfection.
Low volume CNC machining is a specialized process that brings unparalleled precision to the production of custom metal parts. Sanwo Metal employs state-of-the-art CNC machines, ensuring that each component is meticulously crafted with the utmost accuracy. This approach is particularly advantageous for projects that demand smaller quantities of specialized metal parts without compromising on quality.
Tailored Solutions for Every Need
At Sanwo Metal, our commitment to excellence extends beyond the machinery. We understand that each project is unique, requiring a bespoke approach. Our team of skilled engineers collaborates closely with clients to comprehend their specific requirements, enabling us to deliver
custom metal parts
that exceed expectations.
The Sanwo Metal Advantage
Sanwo Metal's expertise in low volume CNC machining is underpinned by a commitment to quality, precision, and innovation. Our skilled technicians leverage cutting-edge technology to ensure that even the most intricate designs are brought to life with immaculate accuracy. From prototyping to the final product, Sanwo Metal's comprehensive approach guarantees client satisfaction at every stage.
Quality Over Quantity
In the world of CNC machining, it's not just about producing large quantities; it's about producing the right quantities with unparalleled quality. Sanwo Metal prides itself on delivering precision-engineered custom metal parts that adhere to the highest industry standards. Our meticulous quality control processes ensure that each piece leaving our facility meets or exceeds the client's specifications.
Meeting Challenges Head-On
Custom metal parts often come with unique challenges, be it complex geometries or specific material requirements. Sanwo Metal thrives on overcoming these challenges, leveraging its experience and expertise to find innovative solutions. Our engineers are adept at pushing the boundaries of what's possible, delivering results that go beyond conventional expectations.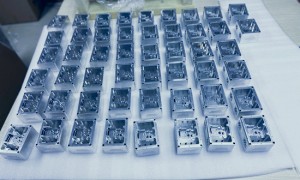 Sanwo Metal: Your Trusted Partner in Precision
In the world of
low volume CNC machining
for custom metal parts, Sanwo Metal emerges as a trusted partner, combining technical prowess with a client-centric approach. With a commitment to quality, precision, and innovation, we bring your designs to life, ensuring that each component is a testament to our dedication to excellence.
As industries evolve and demand unique solutions, Sanwo Metal continues to be at the forefront of low volume CNC machining, crafting custom metal parts that redefine precision. Partner with us for your next project, and experience the seamless fusion of technology, expertise, and personalized service. Sanwo Metal: where precision meets perfection.
Prev: What are the small volume production methods?
Next: What are the disadvantages of low volume production?