Advantages of Custom CNC Machined Aluminum Parts
Views: 74 Update date: Aug 01,2023
In today's rapidly evolving manufacturing industry, precision and efficiency are key factors that determine the success of any production process. When it comes to creating intricate and complex parts, CNC machining has proven to be a game-changer. Among the various materials that can be used in CNC machining, aluminum stands out for its exceptional qualities. With its light weight, high strength, and excellent machinability, aluminum has become a popular choice forcustom CNC machined parts.
1. Aluminum Parts are Durability
One of the primary advantages of using aluminum in CNC machining is its outstanding strength-to-weight ratio. Aluminum is known for its lightweight nature, making it an ideal material for applications where weight reduction is crucial, such as aerospace, automotive, and electronics industries. Despite its lightness, aluminum exhibits remarkable strength and durability, making it suitable for parts that require high structural integrity and load-bearing capabilities.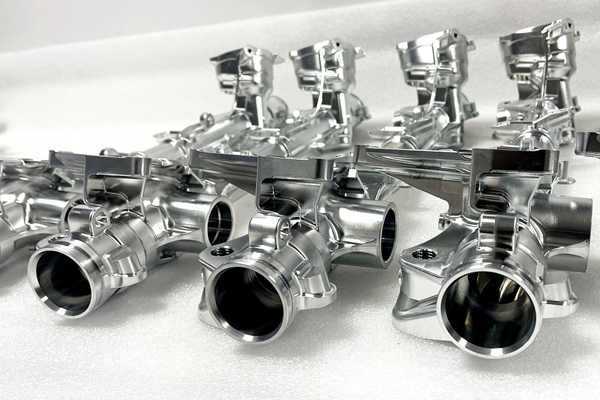 2. Machined Aluminum Parts are Precise & Accurate
Another notable characteristic of aluminum is its excellent machinability. Aluminum is a soft and malleable material, allowing it to be easily shaped and manipulated during the CNC machining process. This means that intricate and complex designs can be achieved with precision and accuracy. Whether it's creating intricate patterns, tight tolerances, or complex geometries, aluminum can be machined to meet the most demanding specifications.
Furthermore, aluminum offers excellent corrosion resistance. It naturally forms a protective oxide layer on its surface, preventing further oxidation and corrosion. This property makes aluminum a reliable choice for parts that are exposed to harsh environments or corrosive substances. Additionally, aluminum can be further enhanced with various surface treatments, such as anodizing, to increase its resistance to wear, abrasion, and corrosion.
3. Custom CNC Machined Aluminum Parts areVersatility
The versatility of aluminum extends to its wide range of alloy options. Depending on the specific requirements of the application, different aluminum alloys can be chosen to optimize the mechanical properties and performance of the custom CNC machined parts. For example, 6061 and 7075 aluminum alloys are commonly used in CNC machining due to their high strength and excellent machinability. When it comes to producing custom CNC machined aluminum parts, choosing the right manufacturing partner is crucial. Experienced CNC machining companies with advanced equipment and skilled operators can ensure the highestquality and precision in the final products, These companies can work closely with customers to understand their unique specifications and requirements, providing expert advice andguidance throughout the entire manufacturing process.
Conclusion
In conclusion, custom CNC machined aluminum parts offer a winning combination of precision, durability, and versatility. With its lightweight nature, exceptional strength-to-weight ratio, and excellent machinability aluminum has become the material of choice for a wide range of applications. Whether it's aerospace, automotive, electronics, or any other industry that demands high-quality parts, CNC machining aluminum candeliver the desired results. By partnering with a reputable CNC machining company. customers can benefit from the expertise and capabilities required to producecustom CNC machined aluminum partsthat meet their exact needs.
Meta Description: Custom CNC machined aluminum parts deliver with 3-7days at SanwoMetal, this all-purpose metal has good quality and high effective usage.
Prev: What is the smallest machining tolerance?
Next: What is considered low volume manufacturing?